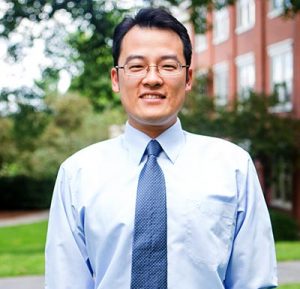 The China Institute proudly presents a talk by one of Bucknell's own scholars, Jimmy Chen, Assistant Professor of Management,
titled "Retail Trends in China: What Can US Retailers Learn?"
With substantial growth in recent years, China's total retail sales are poised to surpass those of the United States this year. China's economy is being transformed from manufacturing-based to demand-driven. A piece of good news for the retail market is that the expanding middle class's disposable income is rapidly on the rise. Interestingly, the major contributors to the booming retail market are not just consumers in major cities but also those in the lower tier cities where retail infrastructure is relatively underdeveloped. Such strong growth across hundreds of Chinese cities is primarily enabled by two powerful drivers — E-commerce and M-commerce. As the US and Chinese retail markets evolve in somewhat similar ways, US retailers are more vulnerable to the negative impacts of the E-commerce and M-commerce because the retail market ecosystems in China and the US are considerably different. Burdened by assets that were once considered advantages, US retailers are scrambling to come up with creative solutions to counter the negative impact of the new shopping behaviors prominent in China. In this talk, we will discuss some latest approaches that have been adopted by an increasing number of major retailers in the US.
The event will take place on Tuesday, April 11 at 4:00pm in the Traditional Reading Room, BERT 213.
All are welcome.