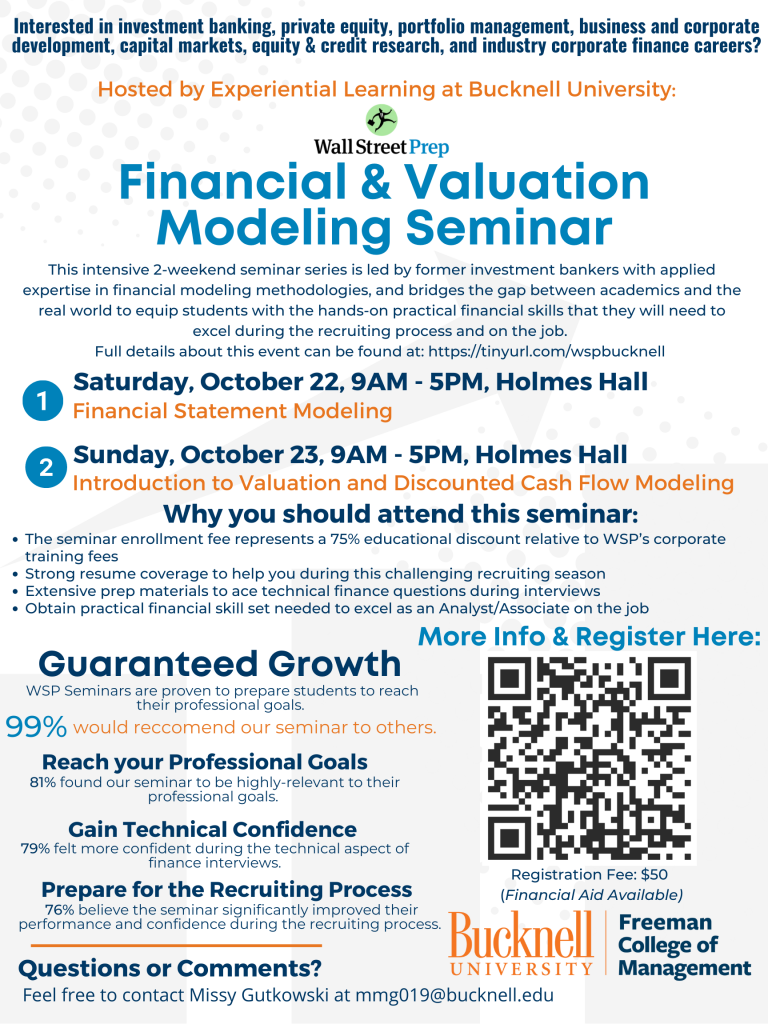 Limited spots are available.
Attention to all students interested in pursuing investment banking, private equity, portfolio management, business, and corporate development, capital markets, equity & credit research, and industry corporate finance careers:
Experiential Learning at Bucknell University will be hosting Wall Street Prep's Financial Modeling seminar at on campus on the weekend of October 22-23, 2022. Classes will take place in Holmes Hall with breakfasts and lunches provided.
This intensive 2-day weekend seminar series is led by former investment bankers with applied expertise in financial modeling methodologies and bridges the gap between academics and the real world to equip students with the hands-on practical financial skills that they will need to excel during the recruiting process and on the job.
Full details about this event can be found at: https://www.wallstreetprep.com/seminars_university/bucknell-university-102222/
PROGRAM AGENDA
Day 1 – Saturday, October 22 (9am-5pm): Financial Statement Modeling in Excel
Day 2 – Sunday, October 23 (9am-5pm): Introduction to Valuation and Discounted Cash Flow Modeling in Excel
Two-step registration process:
Register with Freeman COM here: https://forms.gle/AkY9J16nox6DD53o7
Register with Wall Street Prep here: https://www.wallstreetprep.com/seminars_university/bucknell-university-102222/ (Credit card required. If financial aid is needed contact Missy Gutkowski, Assistant Dean, Freeman COM BEFORE this second step.)